Friday, January 21, 2022 / by Joe Johnson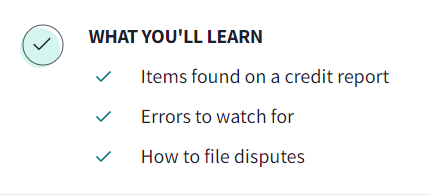 You probably know that a credit report is a detailed history of your debt management and the status of your credit accounts. But have you ever looked at your credit report? You should! Monitoring its data will help you ensure your credit history is correct, achieve the highest credit score possible (and therefore the best interest rate!), and stay safe from identity theft.
You actually have three credit reports, one from each major credit bureau: Equifax, Experian, and TransUnion. Credit bureaus (also called credit-reporting agencies) compile pieces of your financial background like accounts and payment history, as well as public records such as bankruptcies and tax liens. They sell that information to lenders and others who use it to determine whether to give you a loan, lease, job, or other financial product.
Credit bureaus do not make any lending decisions. They only gather your financial information.
You may notice that some details in your credit history vary slightly among the three companies. This is because not all businesses provide information to all three agencies. However, your overall profile should be fairly consistent.
How to View Your Credit Report
You are entitled to a free credit report from each bureau annually, and you can obtain them by visiting
AnnualCreditReport.com
. There are many offers of "free credit reports" out there, but this U.S. government-authorized site is the only trusted source.
Be aware these reports do not contain your actual credit scores. To get your scores, contact your bank or the credit bureaus themselves (you might be asked to sign up for a monthly service at a small cost). Or better yet…
Call your lender! They will give you a full breakdown of your credit report and scores. At Atlantic Bay, our Mortgage Bankers are happy to do a "
soft pull
" on your credit report (in which your credit scores will not be affected) and look at ways to pay down accounts and resolve delinquencies.? Learn more about the
credit scores
in our Knowledge Center.
What to Look for in a Credit Report
Each credit report has four categories:
Identity: Your name, date of birth, Social Security number, current and previous addresses, phone numbers, and employment.

Credit information: A detailed list of your current and closed credit accounts, including payment history, balances, account numbers, and co-signers. Remember, your payment history is the most important aspect of your credit profile because it makes up 35% of your FICO® score.

Public records: Government transactions such as bankruptcies, liens, and divorces.

Recent inquiries: Companies and individuals who requested a copy of your report in the last two years.
What is FICO®?
EXPLANATION
Originally Fair, Isaac and Company, FICO®?is a data analytics company based in San Jose, Calif., founded by Bill Fair and Earl Isaac in 1956. The "FICO®?score" is a leading measure of consumer credit risk, and the one primarily used by mortgage lenders.
Again, each bureau may weigh these aspects of your credit history a little differently, but ultimately, the goal is to answer the same question: Can we lend this person money, and will they be able to pay it back?
Checking for Errors
Errors on credit reports are quite common and can lower your credit score. Be on the watch for:
Accounts reported late when you paid on time

Outdated negative information—most derogatory marks must be removed after seven years

An ex-partner mistakenly listed on a loan or credit card

Incorrect account numbers or accounts that aren't yours

Inaccurate credit limits or loan balances

Accounts you don't recognize

Addresses where you've never lived
How to File a Dispute
The good news is, you can dispute and remove errors by contacting the creditors and the bureaus. Both parties are required to correct inaccurate or incomplete information in your credit report under the Fair Credit Reporting Act.
Don't fret if your addresses, names, or jobs aren't correct on your credit report, as these are not factored into your scores. But do contact the credit bureaus to update them as soon as possible to ensure you have not been the victim of identity theft.
Be sure to type your dispute letter instead of filing it online so you can keep a written record. Write a thorough letter for each error and mail a copy to each credit bureau and creditor involved. Be sure to keep multiple copies for yourself.
The More You Know
Understanding your credit report is essential to giving yourself the best chance at a mortgage loan with an affordable rate. It's also a great way to stay safe from identity theft. Take a look at yours today!